HOW TO TAKE BLOOD PRESSURE Booklet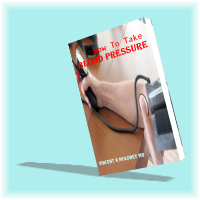 By Vincent R Moloney MD
Fellow of the American Academy of Family Practice (Ret)
How To Take Blood Pressure booklet contains comprehensive instructions with details and photos and tips and tricks.
This ebooklet describes how to take blood pressure on one's self as well as on others. Detailed instructions written in plain English are given, distilled from this physician's professional lifetime of managing hypertension. Insider's tips and tricks are included along with advice on avoidance of the many pitfalls and sources of error. Practical advice is given on exactly what equipment to buy and where to buy at the best price. Also it includes how to gain confidence in reading and where help can be obtained if necessary. TABLE OF CONTENTS:
1. POSITIONING THE PATIENT
Your position can make a big difference.
2. POSITIONING THE CUFF
This can make even more difference.
3. POSITIONING THE STETHOSCOPE
This has to be in the right place both on the arm and in the ears.
4. POSITIONING THE INFLATION BULB AND GAUGE
This can muffle the sounds and make them hard to hear. Normally they are not.
5. NON-PHYSICAL CONSIDERATIONS
It's surprising what you have to watch out for.
6. TAKING THE READING
Detailed instructions on actually taking the reading including what to listen for, what to ignore, how to lower the pressure at the proper speed, etc.
7. POSSIBLE PITFALLS AND POTHOLES
A summary of how to avoid going wrong.
8. TROUBLESHOOTING
What to do when things actually do seem to be wrong.
9. TIPS
Good things to know from an insider with a lifetime of experience.
10. QUICK GUIDE
A summary to use as a reminder after you are taking readings.
11. INSTRUMENT ACCURACY AND CALIBRATION
How you can have confidence in your instrument.
12. VERIFYING YOUR ACCURACY
How to know you are reading properly.
13. EQUIPMENT RECOMMENDATIONS
You don't have to spend a fortune but you can't buy junk. How To Take Blood Pressure booklet tells you exactly what to buy without wasting money.
14. FINAL REMARKS
Some last thoughts including encouragement.
15. APPENDIX
A log for recording readings.
---
It WAS priced at $19.95 US and IS backed by my own personal
30-day money-back guarantee
, the address is in the booklet. No questions asked but if I have missed something please let me know at the same email address so that I can add it or correct it.
Very secure ordering through PAYPAL which takes credit cards as well.
To encourage you to measure it yourself I am offering this How To Take Blood Pressure booklet for sale at one-half price ($9.95). Take advantage of me now while you can and save 50%. Use the same BUY NOW button just above.
I no longer deliver it automatically. Just email me at vmoloneymd@yahoo.com and I will send it as a word document. I check my email 2 or 3 times a day so it won't be long. It's an ebooklet so it should download quickly and you can start reading right away on your computer.
If you have a problem please let me know. (Email address is in your "order info" email).
Congratulations on taking charge of at least one aspect of your health.
---
Follow this page How To Take Blood Pressure Booklet with the Homepage.